Localized Adiposity
As it often happens in medicine, the effectiveness of a method is related to the combination of several techniques that have a complementary action.
This is the case of the method called Diatermologie (Alphaliposculpture + Imperium Med 400), a new concept of care for non-surgical treatment of localized excess weight.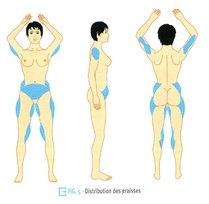 The treatment of overweight and the silhouette is one of the great themes of medical aesthetics. The demand, especially feminine, has existed for a long time, but for some years it has changed: the patients not only want to lose weight but also reshape their silhouette. It is also noticed a marked withdrawal from liposuction and a growing demand for solutions that are not invasive, less aggressive and without recourse to hospitalization or general anaesthesia. This is certainly the case with Diatermologie that has an answer to each factor of the new demand. 

The objective of the method is based on three levels:
Treat the overweight with a medically correct viewpoint and reestablish the weight equilibrium with valid nutritional methods.




Correct the silhouette with treatments for localized adiposity, with non-invasive medical procedures (liposuction effect).




Finally, fight the superficial cellulite (orange peel) including the skin and the muscle laxity and normalise of the fibrous septa.