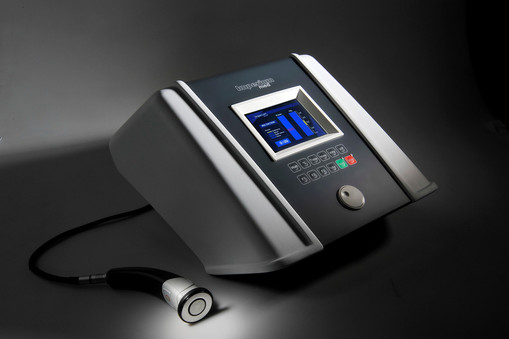 Main Fields of Application:
This technological marvel represents the latest invention born at Brera Medical Technologies. It belongs to the Imperium line, a family of highly technological devices for physiotherapy treatments in medicine. The Imperium Med 250 works through the emission of energy flows (Radiofrequency) of high intensity (300 W RMS) that develop endogenous heat.


This equipment comes from a choice of an intelligent energy able to give a definite therapeutic effect, having been designed to activate, accelerate and amplify the effects of intra- and extracellular activities in the human tissue freeing them from dysfunctional and pathological conditions.

 
The characteristic of this device is that is encouraging the application of diathermy energy to painful, dysfunctional and dystrophic conditions concerning each type of biological tissue, with or without vibratory stimulus of medium frequency.
This equipment (like other models), is equipped with the TSL (Thermal Saturation Level) a means of thermal saturation. Practically each handpiece of each actuator that is sensitive to detecting changes in temperature increases until it reaches the target temperature limit programmed. This device is useful so one knows exactly that the same amount of electromagnetic energy was applied as it was intended by the pre-selected program, that this energy has had a homogenous distribution on the treated area and having had a heat production according to the programmed amount, therefore it cannot damage the irradiated tissues to cause a burn.

Operative Mode
Imperium Med 300 has different ways of working that identify different modes of therapeutic applications able to enhance the effectiveness of the therapy session itself and can give selective indication of the pathology.
These are :
Capacitive and/or Resistive Diathermy
Athermal
Hypothermal
Hyperthermal
Personalized
Low Frequency Ultrasound 40 KHz (Cavitation)
Breaking
Lipolytic
Personalized

Low Frequency Ultrasound 25 KHz (Dermoabrasive)
Epidermoabrasion
Sonophoresis
Personalized

Electro-Radioporation
Mesoporation
Personalized